Target's Customers Call for 'Bud Light Treatment' Over Transgender Line of Children's Clothes
The retailer Target's new line of queer and transgender clothes for kids—including little girls' bathing suits designed to accommodate "tucking" of male genitalia—has incited a backlash akin to that recently faced by Bud Light.
The blowback is specific to the retail giant's recent release of an LGBT line of clothing and accessories a few weeks ahead of "Pride" month.
To market the line, Target is running images on its website of young, effeminate-looking boys modeling little girls' rainbow-colored sports bras and singlets, something that has especially outraged parents such as Lori Clark.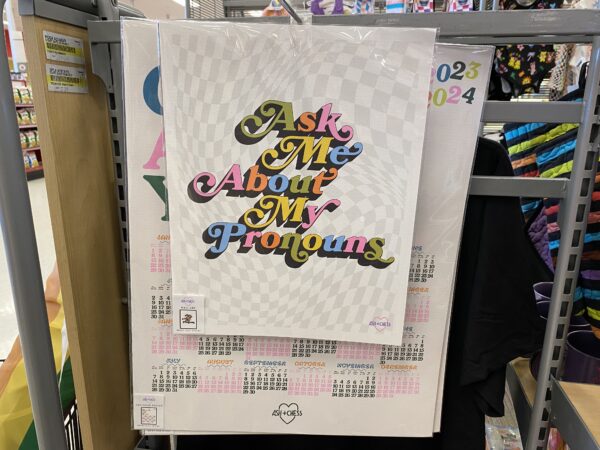 "I really in all honesty don't care what adults do behind closed doors. But when you start targeting kids—no, no," the mom from Latoya, Texas,said. "You have brought the fight to us. So don't get mad when we punch back."
Clark is among hundreds of parents who have joined a social media boycott of Target over the Pride line.
The retail chain, which has been selling breast binders since December, didn't respond by press time to requests by The Epoch Times for comment.
Several parents say they want Target to experience what Anheuser-Busch did when it used transgender influencer Dylan Mulvaney to promote Bud Light.
One mom, outraged by a teen shirt she found at her local Target depicting an image of a naked trans woman, wrote on Twitter, "Bud Light them."
Dr. Cindy Sena-Martinez, a psychologist who runs a ministry in Anchorage, Alaska, posted on Twitter that Target deserves the "Bud Light treatment."
Another parent wrote, "I think Target needs a Bud Light lesson."
Anheuser-Busch has lost more than $5 billion in market value in the fallout from what has been deemed by some as one of the biggest marketing debacles in retail history.
Time will tell how Target's Pride line will affect its sales.
Dozens of parents have shown their disdain for the LGBT kids' clothes by posting videos they took of themselves at Target stores displaying the merchandise.
In his video, Graham Allen, a dad and the host of the Texas podcast "Dear America," focuses on the toddler boys section of his local Target store, where he found a number of T-shirts showing traditional boy things, such as trucks, dinosaurs, and sharks, with LGBT themes.
One shirt shows a crane picking up a giant rainbow.
"They are destroying masculinity," Allen says in his video. "It's time to stand up against this 'wokeness.'"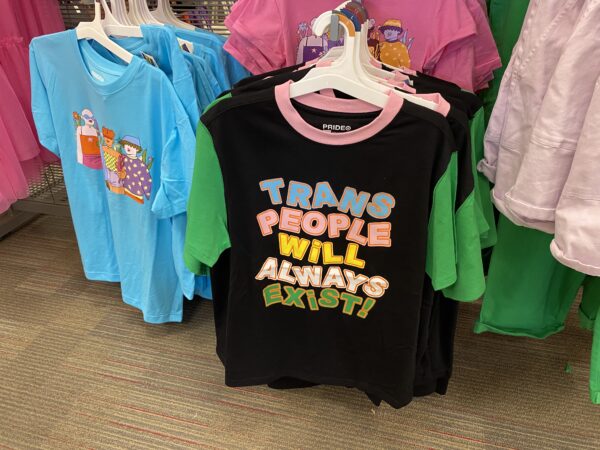 There is some support for the LGBT collection—including from the group Gay, Lesbian, and Straight Education Network (GLSEN)—which Target promotes on its website as part of what it says is its celebration of upcoming "Pride Month."
According to its website, Target is now carrying 2,389 "Pride" products with categories that include "Kids and Baby Clothing."
The Pride line includes a category called "Family Outfits." Online ads for that category feature two women who appear to be nonbinary posing with androgynous-looking children in LGBT-themed clothing.
Other items Target has rolled out with its Pride line include toddler-sized T-shirts that sport the message "Trans People Will Always Exist."
Another shirt for kids bears the saying "Live, Laugh, Lesbian," and another the message "Queers Take Care of Each Other."
Non-clothing accessories include a "Queer All Year" wall calendar, a "My Queer Year" diary, and a rainbow-colored wall decoration that reads, "Ask Me About My Pronouns."
The Pride line even includes LGBT gingerbread houses, a Pride Parade float gingerbread kit, and a cookie kit with such suggested designs as the word "Queer."
Chuck Slavin, a Massachusetts father of two teen boys, told The Epoch Times that what he finds especially disturbing about Target's decision to introduce "Pride" clothes for kids is its decision to put the bulk of the apparel and other wares at the front of the store, near the entrance.
"It's really an in-your-face kind of move," said Slavin, who works as a professional actor, "I mean if you are walking in with kids, they can't miss it."
Slavin and other parents also accused companies such as Target and Bud Light of using products to sexually groom children.
"Normalizing adult behaviors and conditioning children to endorse any sexual behavior is inappropriate and unnecessary," he said.
Clark said what made the Bud Light debacle offensive to her is that Dylan Mulvaney presents himself as a "pubescent girl."
She said that translates into the beer company promoting underage drinking.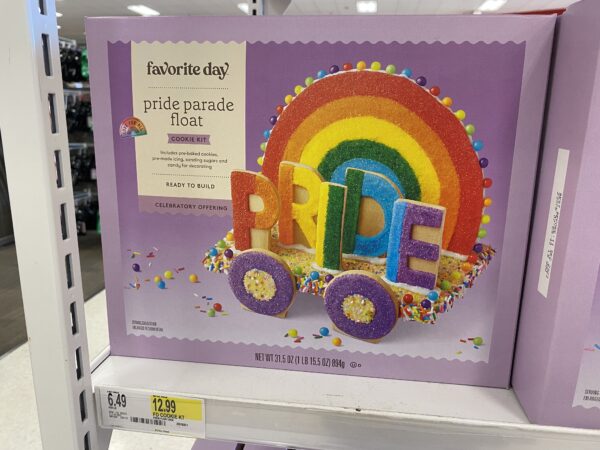 "It's clear they are not in touch with the general population. And they're finding out by the backlash that most of the Americans do not think the way that they think," she said.
"And I don't care if they call us homophobic or transphobic or whatever."
It isn't the first time Target has been under fire for being a "woke" retailer.
In 2016, customers boycotted the chain after it announced that customer restrooms would be redesignated as same-sex bathrooms. In response to the boycott, Target announced that it would spend $20 million to install lockable, single-toilet bathrooms.
Target, however, has since, like many retailers—reassigned its changing rooms to same-sex.
Shortly after the switch, a 43-year-old Idaho man—who claimed to identify as trans—was arrested for videotaping an 18-year-old woman in a Target dressing room.