21 AGs and 37 Parental Rights Groups Join Mother's Fight Against Trans Indoctrination in Schools
In a show of support for a Florida mother who's fighting to protect her child from transgender indoctrination in school, an army of parental rights organizations and attorneys general from 21 states have joined forces.
"What happened last week is we had an extremely gratifying showing of 37 organizations and parental rights groups and 21 state attorneys general that filed an amicus brief in support of the Littlejohns," attorney Vernadette Broyles said during a virtual meeting with The Epoch Times. "That is an incredible showing of the coalition that has come together around the country to make a statement about the importance of parental rights, and particularly the importance of this case."
The brief (pdf), obtained by The Epoch Times, bears the names of 52 individuals who "may have an interest in this case."
As reported by The Epoch Times in August 2021, January Littlejohn of Tallahassee, Florida, was horrified to discover that school officials held a secret meeting with her 13-year-old daughter to discuss how the school would accommodate her decision to be acknowledged as nonbinary and use an alternate name at school.
The plan advised staff that the parents were not "aware and supportive of their child's gender transition." So, while the school psychologist, principal, assistant principal, teachers, and substitute teachers, as well as the student's peer group and counselor would know what was going on, the parents were to be kept in the dark.
During the secret meeting, school officials assisted Littlejohn's daughter with the completion of the Leon County School District's Transgender/Gender-Nonconforming Student Support Plan, which was first obtained by The Epoch Times.
A "checklist" was used to record the child's new nonbinary status and her "preferred name" and "preferred pronouns."
Littlejohn's 13-year-old daughter was also allowed to decide which bathroom she preferred using and that she would "be comfortable rooming w/either sex" on overnight school trips, opening the door to having her daughter sleeping in the same room as teenage boys without her knowledge or consent.
Back then, Littlejohn likened the rising transgender phenomenon to "a social contagion like anorexia, affecting vulnerable teens."
"But it's being celebrated, and it's spreading like wildfire," she said.
The Birth of the Trans Movement
Littlejohn also participated in the virtual meeting with The Epoch Times. She reflected on when the trans movement began in the United States and how much things have progressed since The Epoch Times first broke the story about her daughter.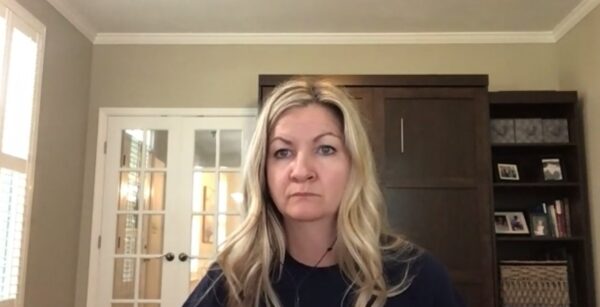 "It was around 2015 when you really started the see LGBTQ activist groups like GLSN and the Trevor Project infiltrate the school system," Littlejohn said.
In October 2015, the Human Rights Campaign published "A Guide for Supporting Transgender Students in K–12 Schools (pdf)," based in part on data published by GLSN. GLSN, founded in 1990 "by a group of teachers," advises on, advocates for, and researches "comprehensive policies designed to protect LGBTQ students as well as students of marginalized identities." The guide was co-authored and endorsed by the National Education Association.
Appendix D of the guide includes a template for a "gender support plan," designed "to create shared understandings about the ways in which the student's authentic gender will be accounted for and supported at school." The "gender transition plan" was designed to support "the necessary planning for a student's formal transition of gender from its commonly assumed status to something else."
On May 13, 2016, then-President Barack Obama's U.S. Department of Justice and U.S. Department of Education issued a joint "Dear Colleague Letter on Transgender Students (pdf)," advising that "Title IX of the Education Amendments of 1972 (Title IX) and its implementing regulations prohibit sex discrimination in educational programs and activities operated by recipients of Federal financial assistance."
"This prohibition encompasses discrimination based on a student's gender identity, including discrimination based on a student's transgender status," it read. "This letter summarizes a school's Title IX obligations regarding transgender students and explains how the U.S. Department of Education (DOE) and the U.S. Department of Justice (DOJ) evaluate a school's compliance with these obligations."
Institutions could lose federal funding for not complying "with their legal obligations."
On June 16, 2021, Biden's Office for Civil Rights in the DOE issued a Notice of Interpretation (pdf), stating that it "will enforce Title IX's prohibition on discrimination on the basis of sex to include: (1) discrimination based on sexual orientation; and (2) discrimination based on gender identity."
The department's interpretation was based on the U.S. Supreme Court decision in Bostock v. Clayton County, issued a year earlier, in which the high court determined that one can't discriminate against a person based on their sexual orientation or gender identity without discriminating against that person based on sex.
However, according to Littlejohn and Broyles, the DOE's Office of Civil Rights has no more power to create laws than the government's Centers for Disease Control and Prevention; law is created when Congress passes legislation, which a president approves with a signature.
"They were wrongly instructing teachers, administrators, and superintendents that they had to follow these policies and procedures because it was the law," Littlejohn asserted. "But that was not the case."
The Progression of the Trans Movement
Littlejohn said she finds the rapid progression of the transgender movement to be staggering.
Drag Queen Story Hour was also started in 2015, by Michelle Tea, and targets children as young as 18 months old. While Drag Queen Story Hour bills these events as a celebration of "reading through the glamorous art of drag," others claim that "the purpose of drag queen story time is to groom the children."
Drag Queen Story Hour was just the beginning.
Then came "family-friendly" drag shows where near-naked men, clad in a garish guise of womanhood, perform sexually charged dances in front of children at pride parades, outdoor events, restaurants, amusement parks, theme parks, regular bars, gay bars, schools—and churches.
There's drag bingo, drag Christmas, drag nuns, and drag performers who openly mock Jesus and desecrate the sanctity of the crucifixion.
In October 2022, The Epoch Times reported on Child Protection League (CPL) Board Chair Julie Quist's warning of the dangerous push to normalize drag shows for children. Where parents once warned children about accepting candy from strangers, she lamented that parents now "encourage their children to give drag queens money and to sit on their laps to be fondled by them."
What astounds Littlejohn the most, she said, is how deeply yet boldly the transgender ideology has become ingrained in the United States' education system.
"They are so brazen in what they are doing in completely violating the principal authority: parents. But only in this one area," Littlejohn said.
She noted how school staff couldn't give a child medication without parental permission. They can't execute a 504 plan under the ADA or show a PG-rated film to a child or use a child's photo in the school yearbook without parental consent.
But when it comes to pushing children into the world of transgender ideology, Littlejohn said many school officials and teachers "think they can trample parental authority, and that's exactly what they're doing."
"Remember when The Epoch Times broke the story about my daughter?" Littlejohn said. "Well, these guidelines are everywhere now, and people have started paying attention. They've started to see just how many programs and procedures were already in place across the state of Florida and really across the country."
In subsequent reports, The Epoch Times exposed how this same story was playing out in other states.
Parents in Pennsylvania discovered the existence of a secret "Gender & Sexuality Alliance" club at a middle school.
A mother in Los Angeles told The Epoch Times how her 14-year-old daughter—who was diagnosed with Asperger's syndrome—was indoctrinated into the trans culture through YouTube videos and "aggressive" online conversations with a "very aggressive" "trans boy."
In Augusta, Georgia, a distraught, single mother said that her teenaged son went from "socially awkward and quirky" to "disturbing and frightening" after he "found friends" online who were "declaring nonbinary and transgender status" and began providing him with "their old girl clothes."
The most disturbing story came from Fleming Island, Florida. Wendel and Maria Perez were told that their 12-year-old daughter tried to commit suicide in the school bathroom—for the second time.
Just like with the Littlejohns, school officials had been having secret meetings with their daughter.
'This Is Reality'
Six months after taking office, President Joe Biden's Department of Education announced (pdf) that it was "supporting transgender youth in school," suggesting that schools, districts, colleges, and universities include "welcoming and inclusive language" in their mission statements.
Institutions of education were encouraged to ensure that school policies "clearly affirm" a student's right to "be free from discrimination based on sexual orientation and gender identity in all aspects of school" and to adopt policies "that respect all students' gender identities, such as the use of the name" and "pronouns that reflect the student's gender identity."
"Biden's administration has made itself clear in its adversarial posture toward parents," Littlejohn said. "This isn't politics. This is reality. When Biden says, 'They are all our children,' it's apparent to us that his federal agencies are trying to actualize that reality."
As reported by The Epoch Times, the Littlejohns sued the Leon County School Board for its violation of her parental rights and to stop the policy of providing secret gender-affirming "Guidance" to children.
However, Broyles said, "The court granted the district's motion to dismiss in December."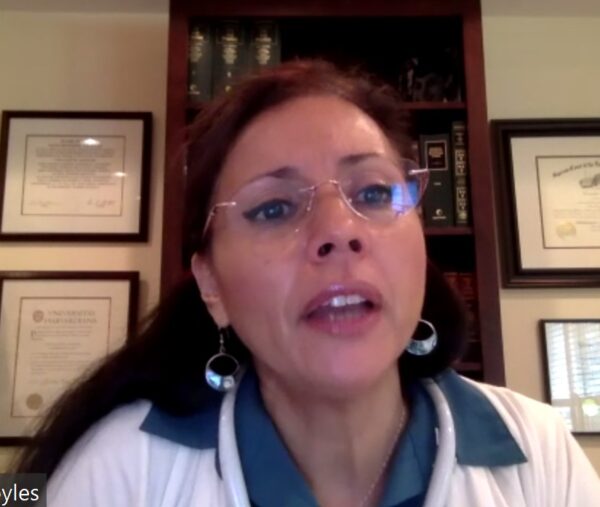 "For context, this has happened with pretty much every other parental rights case at the trial court level," Broyles said, adding that "people need to appreciate that school districts enjoy a tremendous amount of immunity from lawsuits."
"If parents realized how hard it is to hold their schools accountable for any wrongdoing, I'm not sure they would leave their kids in these schools," she added. "They have sovereign immunity, and they have qualified immunity. Nine times out of the 10 times they file a motion to dismiss, it's granted. So, we figured this would happen."
Undaunted, Broyles filed an appellate brief with the 11th Circuit Court of Appeals.
"If we're successful, it's finally going to establish a beachhead on the main legal battlefield that parental rights and 100 years of precedent in establishing the due process of parental rights is fully applicable to the transgender ideology issue," Broyles said.
'We Are at a Tipping Point'
Despite the challenges, Littlejohn said she believes that "the tide is turning."
"We are at a tipping point," she said. "I am seeing parents, people, organizations, and state officials waking up around the country. This has gone too far. It has been allowed to go too far. There is a mindset that children don't belong to one family or to parents, that they belong to some collective, and we just can't have that in this country."
The trans push started quietly in schools. Then, it became public. Now, it's everywhere. Biological males are allowed to use bathrooms and changing facilities reserved for biological females. Biological males are dominating biological females in women's sports. A man was named Woman of the Year. A man was crowned Miss America.
"There are those who want to protect children, and there are those who don't," Littlejohn said. "Kids should be off limits, and they should have always been off limits. But while it has become a political football for some political leaders, the average American isn't on board. Target Corporation has learned that the hard way."