Modi's Washington Visit Boosts US–India Relations as China Signals Unease
NEW DELHI–While Narendra Modi has visited the United States as India's prime minister in the past, this time he's being welcomed for an official state visit, the highest form of U.S. diplomacy.
The three-day trip is expected to focus on strengthening defense and technological cooperation between the two countries, as Modi seeks to bolster India's place at the world's top table.
Modi is just the third world leader to be honored by a state visit under President Joe Biden, after France's Emmanuel Macron and South Korea's Yoon Suk Yeol.
The event has drawn headlines in China as well, where communist leaders and media alike have traditionally downplayed U.S.–India relations—and now accuse the United States of fomenting even deeper discord between India and China.
However, Modi said in a pre-departure interview with The Wall Street Journal that any improvement in India–China relations would depend primarily upon the situation on their mutual—and hotly disputed—border in the Himalayas.
Highlights from the first two days of Modi's state visit included a series of meetings with U.S. thought leaders, think tanks, members of the Indian diaspora in the United States, U.S. industry leaders, and CEOs—including Micron Technology CEO Sanjay Mehrotra and Tesla and Twitter boss Elon Musk.
The Indian leader also met with actor Richard Gere at a yoga event organized at the United Nations headquarters in New York on June 21. Gere has been banned from China—and even received a 20-year ban from attending the Academy Awards in Hollywood in 1993—due to his speaking out against the Chinese Communist Party's (CCP's) brutal human rights violations in Tibet.
Also on June 21, Modi was invited to a private dinner at the White House hosted by President Joe Biden and First Lady Jill Biden. Other guests included U.S. national security adviser Jake Sullivan and his Indian counterpart Ajit Doval.
There has been speculation that significant announcements on cooperation could be made on June 22 before Modi addresses a joint session of the U.S. Congress in the evening.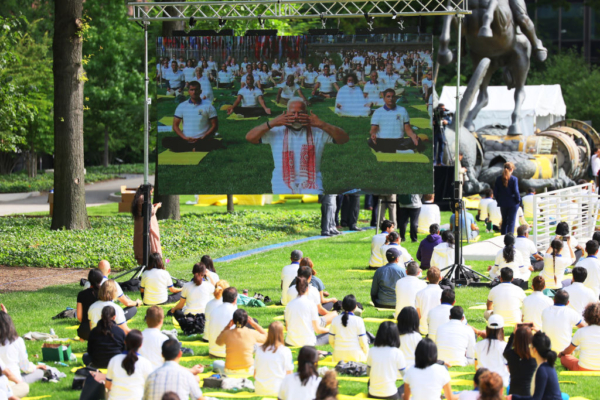 India's Emergence
In interviews and speeches related to his U.S. visit, Modi has taken great pains to highlight India's emergence on the global stage, and to point out the strength and depth of the ties between India and the United States—including in terms of the interpersonal relationship and "an unprecedented trust" between the two countries' leaders.
Modi hailed growing U.S.–India defense cooperation as "an important pillar of our partnership," which he said extends further to trade, technology, and energy.
The United States is India's largest trading partner, and bilateral trade between the two countries rose in 2022-23 by more than 7.65 percent to reach a record of $128.55 billion, according to statistics from India's Commerce Ministry. The increase occurred at a time when India's bilateral trade with China fell by 1.5 percent to $113.38 billion.
Modi has sought a greater role for India in the global arena, and has been eager to portray the world's largest democracy as the natural leader of the global South—a region that is also the prime focus of China's foreign policy. Modi said India can give a voice to developing countries' long-neglected aspirations.
"India deserves a much higher, deeper, and wider profile and a role," he said.
Despite speculation about India soon replacing China as a global economic powerhouse, Modi emphasized that India doesn't want to emulate any other country, but seeks to forge its own unique path to global prominence.
"Let me be clear that we do not see India as supplanting any country. We see this process as India gaining its rightful position in the world," Modi said. "The world today is more interconnected and interdependent than ever before. To create resilience, there should be more diversification in supply chains."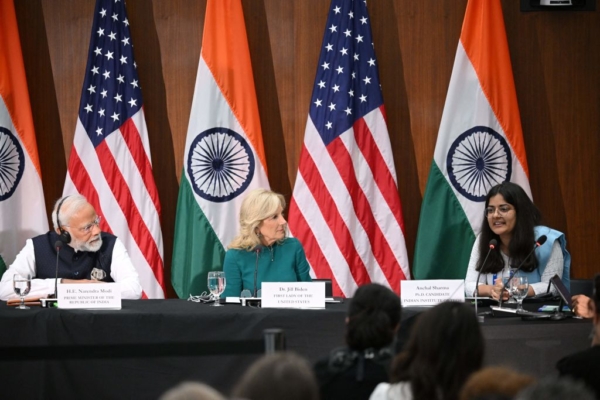 Chinese Dilemma
Both Indian and Chinese media are portraying Modi's U.S. trip as conveying a silent message to China. The trip has created a geo-political tug-of-war between the two media blocs, with political leaders from both sides weighing in. Modi reiterated, however, that bilateral relations between the two nations are conditional on the preservation of peace on the India-China border.
"For normal bilateral ties with China, peace and tranquility in the border areas is essential," Modi said. "We have a core belief in respecting sovereignty and territorial integrity, observing the rule of law, and peaceful resolution of differences and disputes. At the same time, India is fully prepared and committed to protect its sovereignty and dignity."
A day before Modi left for the United States, China's former top diplomat, Wang Yi, wrote an opinion piece for the state-run Global Times newspaper. Wang said that the United States has "introduced geo-political calculation" in order to increase trade and commerce with India. He claimed that China was observing the misgivings of the "Indian elites" regarding their nation's closer ties with the United States.
"The U.S.'s geopolitical calculations are not difficult to read," Wang wrote. "As feared by many Indian elites, Washington's vigorous efforts to strengthen economic and trade cooperation with India is primarily to slow down China's economic development.
"However, this geopolitical calculation of the U.S. is doomed to fail, because China's position in the global supply chain cannot be replaced by India or other economies," Wang claimed.
On the eve of Modi's arrival, however, National Security Council spokesman John Kirby said at a news conference that the visit would demonstrate India's willingness to join the United States in protecting and advancing "a shared vision of a free, open, and rules-based global order."
"The visit will strengthen our two countries' shared commitment to a free, open, prosperous, and secure Indo-Pacific, and our shared resolve to elevate our strategic technology partnership, including in defense, clean energy, and space," Kirby said. "India will be a critical strategic partner for the United States in the coming decades. "