Defense Bill That Defunds DEI, Provides Compensation for Vaccine-Related Discharges Advances in House
All things considered, adopting a 416-page, near-$1 trillion spending plan with more than 800 amendments over a 14-1/2 hour span—including more than 11 in deliberative, often heated, debate—is a good day's work for a congressional committee.
So, there was a bit of congratulatory relief as the clocked crawled toward 12:30 a.m. on June 22 when Chair Rep. Mike Rogers (R-Ala.) formally closed the House Armed Forces Committee's hearing on the proposed $874.2 billion Fiscal Year 2024 National Defense Authorization Act (FY24 NDAA).
"This has been a long day and we have accomplished a lot," Rogers said after the FY24 NDAA, the United States' annual defense budget, was advanced to the House floor in a 58–1 vote, praising the panel for its bipartisan cooperation in producing a plan that required debate on "less than 50" of the 800-plus amendments.
The defense budget the committee is delivering for full House review, filed as House Bill 2670, will eventually be adopted and shifted to the Senate, which is deliberating its own NDAA version.
Differences in the chambers' defense budget will be ironed out in summer-long conferencing and, ideally, set for adoption before the fiscal year begins Oct. 1.
Of course, there's bound to be some significant differences between the defense budget the Democrat-controlled Senate will endorse and the one handed down by the Republican-majority House committee.
That friction will stem from the two dozen amendments passed by the committee in near-strict partisan votes targeting critical race theory (CRT); diversity, equity, inclusion (DEI); environmental, social, and  governance (ESG) financial scoring; transgender and gay enlistment; on-base drag shows; and, among other "woke" policies snared in the GOP's wide net, greenhouse gas regulations.
The committee adopted 11 of 13 proposed amendments that addressed CRT, DEI, and ESG, including a measure that would furnish active-duty parents of children in Department of Defense (DOD) schools a "Parents' Bill of Rights."
In addition, the panel passed onto the House floor seven amendments that seek to redress the "damages" done to those forced to leave the military for refusing vaccinations; further strengthen service members' right to refuse; and prohibit the DOD from funding "gain-of-function" research into viruses and bacteria.
There were hours of often repetitive debate over these issues with relatively little discussion on meat-and-potatoes defense matters—submarines and modernizing the nuclear weapons program were mentioned—but those components of the spending plan had been adopted unanimously by the committee's seven sub-panels June 13-14 and rubber-stamped by the full committee in about 90 minutes.
So the floor, as they say, was wide open to legislate on cultural issues the House GOP has waited to address in an actionable forum after Democrats' four-year chamber reign was ended in the 2022 midterm elections.
And they made no apology for it.
"It's not us who are trying to use this as a wedge issue to politicize the military," Rep. Matt Gaetz (R-Fla.) said. "We were trying to remediate an existing harm, and that we have an obligation to do that when we hear from our constituents. So please, debate us on the merits. We appreciate that."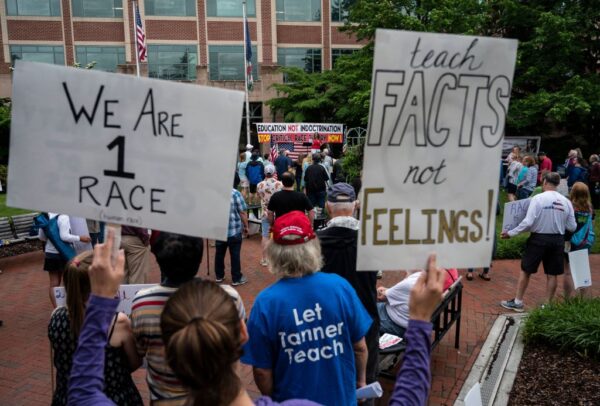 Defunding DEI, CRT Programs
Only two of 13 proposed amendments related to CRT and DEI failed to garner 30 votes necessary to advance through the 59-member panel, which includes 31 Republicans.
Three of four proposed Gaetz amendments addressing CRT and DEI were adopted. They ban CRT from DOD programs; require DOD to document in a report "the actual cost" of CRT training; and "codify" recent comments by Secretary of Defense Lloyd Austin and Joint Chiefs of Staff Chairman Gen. Mark Milley banning drag shows on military installations and DOD money from being used in promotions involving drag queens.
Gaetz's bid to repeal the FY21 NDAA provision creating a DOD Diversity Officer position failed in a 30–29 vote. Rep. Mark Alford's (R-Mo.) proposed amendment to defund a DEI Inspector General position fell short by the same tally.
Alford's proposed amendment to eliminate the Pentagon's 'Working Group on Extremism in the Military,' however, was approved in a 31–28 vote.
Two Rep. Jim Banks's (R-Ind.) measures advanced in the same party-line votes. One would require DOD to "study the impact of President Biden's executive order on preventing and combating discrimination based on gender identity or sexual orientation on our female service members" and the other would "prohibit DOD from paying any civilian or military employee" engaged in DEI activities "at higher than the GS 10 level," which is equivalent to an Army captain and Navy lieutenant.
Rep. Richard McCormick's (R-Ga.) measure prohibiting DOD from contracting with 'Global Misinformation Index' fact-checkers slipped by in a 30–28 vote.
Also adopted were Rep, Mike Waltz's (R-Fla.) amendment banning the teaching of CRT in any DOD program; Rep. Ronny Jackson's (R-Texas) measure prohibiting DOD from funding its Defense Advisory Committee on DEI or create one "related to" ESG; and Rep. Cory Mills's (R-Fla.) proposal requiring the Secretary of Defense to submit a report within 90 days on how Defense Advisory Committee on DEI members were selected, and also sunsets the committee by Sept. 30, 2024.
Throughout the marathon day, Democrats chafed at the tedium Republicans employed in sifting through laws, regulations, and rules to find traces of CRT—it is not formally encoded into any DOD curriculum—and aspects of DEI programs to challenge in amendments using the same talking points repeatedly.
At one point, which would prove early in the process, Rep. Steven Horsford (D-Nev.) expressed pre-emptive exasperation at the pending array of near-same amendments and asked Gaetz if his amendment banning CRT was adopted, why proceed with other CRT-related measures?
Gaetz indicated he would proceed as planned.
"So it's your intent to use this hearing today not to talk about national security, not to talk about preparedness, but to spend an inordinate amount of time talking about a wedge issue that your side is choosing to use in this hearing? Rather than [discuss] housing health care, mental health services, child-care in the hearing today?" he asked.
The amendments are merely props for Republicans to "dominate the time on wedge issues that are about dividing our nation. You want to talk about race. You want to talk about equity and inclusion. We've had many hearings about this," he said. "And at a time when our military service members and their families are putting their very lives in danger, for you to use this time to divide the nation and divide our military is inappropriate."
Gaetz and fellow Republicans were not swayed.
He agreed with Democrats' contention that the amendments were partisan and the defense budget had become "politically weaponized."
"I could not agree more. It has been politically weaponized by the left," he said. "And to my colleagues, questions about whether or not I intend to use this hearing to go after the diversity, equity and inclusion initiatives and critical race theory in the military? "The answer to that question, is unequivocally 'yes.'
"We will spend as many hours as it takes to 'de-wokify' this military," Gaetz continued. "And so, yeah, we're going to be going after DEI, and we're going to be going after critical race theory. And I think that's what our military deserves. It's not divisive for us to do that. What was divisive was to use the prior National Defense Authorization Act to establish these programs."
The entire DEI and CRT conversation is getting as boring as the buzzword "woke" is becoming to most Americans, said Committee Ranking Member, or lead Democrat, Rep. Adam Smith (D-Wash.),
"We've had that debate. And now we are beating it over and over again, You don't have to offer 150 amendments on the same subject," he said.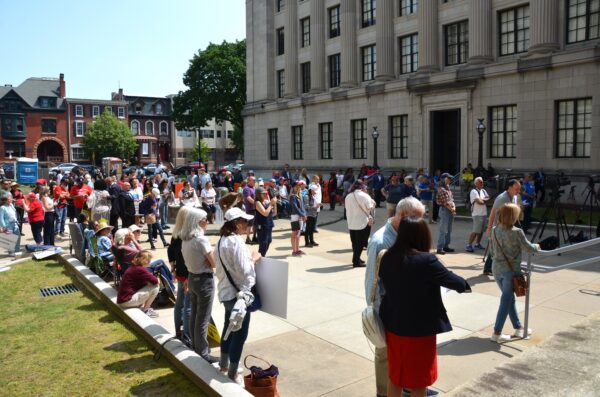 A DOD 'Parents' Bill of Rights'
Sponsored by Rep. Elise Stefanik (R-N.Y.), the proposed DOD 'Parents' Bill of Rights' advanced in a 31–28 party line vote with Democrats claiming the measure was unneeded and solely driven by a hardline conservative agenda.
A similar measure, with the support of 12 Democrats, was adopted by the House Armed Services Committee in 2022 but failed to gain traction in the Senate. The proposal's 2023 version failed to garner any votes from panel Democrats.
"Last year, we were introduced to the same amendment by my colleagues. I voted in good faith for that amendment at the time, but after looking into this further, here's the thing: Parents can already do that," said Rep. Salud Carbajal (D-Calif.).
The DOD's policy mandates parents may access their students' records and has "several parent handbooks" that address privacy, medical information, grading, curriculum, parent-teacher conferences, and the handling of violence in schools, he said.
"So really, my colleague [Stefanik] has asked me to pass an amendment that provides rights that our service-member parents already have," Carbajal said. " I feel that my colleague knows this and instead, is focused on bringing more culture wars, book bans, and fear-mongering into the DOD schools. I have come to realize that this amendment is a Trojan horse; a disguised push to snuff out free discussions of ideas or differing experiences in language."
Smith mocked Republicans' contention the amendment was designed to enhance parental access and transparency in DOD education policies.
"As you listen to this debate, that's not what this is about. I mean, it was made very clear by [Stefanik saying] she's going after trans-education and sex education. There is a very narrow conservative agenda," he said.
"We're having the fight that they're having in school districts all across the country right now," Smith continued. "That is very, very unfortunate that people want to push a very narrow political agenda in schools— and frankly, it does happen on the left sometimes—and I'd be against parents doing that, to pushing a very narrow-minded agenda from that side. We got right and left banning books, they're both ridiculous, but it's the reason that we shouldn't support poor amendments like this."
Stefanik said the fact that 12 Democrats supported the same measure last year but declined to so this year shows it is not Republicans with an agenda. Calling a "Parents Bill of Rights" for parents in the military a "common sense" measure, she said it merely encodes for them the same rights as any other American parent.
"This is going to be a partisan vote. And that is unfortunate because the Republicans support the right of parents to review the curriculum of schools. The Democrats vote 'no.' They don't want to allow parents to review the curriculum," she said. "My colleagues across the aisle oppose parents having a right to know that.  Republicans support the right to meet with each teacher of their child, not less than twice during each school year."
Stefanik said Democrats apparently oppose allowing military parents from reviewing school budgets, instructional materials, teacher professional development materials, and "to inspect a list of books and other reading materials," noting the measure has "no content wording about banning books."
She warned Democrats that "the American people across this great country are smart" enough to discern which party is playing politics with their children's education, and that parents in the military have the same "common sense."
"They know this should not be a partisan issue, but apparently there is only one party that is the party of parents and that's the Republican Party and that's why you're going to see a partisan vote on this committee," Stefanik said, a prediction confirmed by her 'Parents Bill of Rights" being adopted in a party-line tally.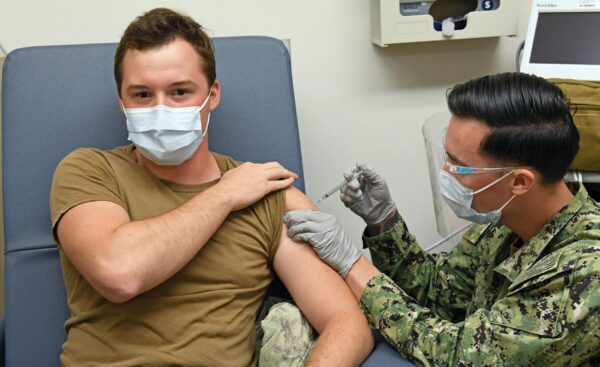 Remediating the Vaccine 'Damaged'
Three of the seven vaccine-related measures adopted by the panel were filed by Banks, including an amendment to "prohibit adverse action for those service members who did not receive the COVID-19 vaccines."
The proposal, adopted in a 32–26 tally, would also  "permit reinstatement in the grade held at separation."
"This provides a fair, equitable, and honorable option for our wrongly separated service members, many who filed legitimate religious exemptions and were ignored to return to their ranks without any detriments to their career progression, especially in a time of great need as we face the greatest recruiting crisis since the establishment of the all-volunteer force," Banks said.
His second amendment requires military boards of corrections "to prioritize cases for those service members who did not receive the COVID-19 vaccines" using the same remediation process "we utilize for those service members separated during or under 'Don't Ask Don't Tell.'" The measure advanced in a 33–25 vote.
Banks's final amendment requires the Secretary of Defense to communicate the already available reinstatement process for those service members who are discharged solely for not receiving the COVID-19 vaccine. It passed in a 36–23 tally.
Jackson's proposal to exempt those forced to leave service academies by defying vaccine mandates from being forced to reimburse tuition costs moved in a 32–27 vote while Mills' amendment prohibiting DOD from demanding those terminated for refusing vaccines repay enlistment bonuses passed in a similar tally.
Gaetz's amendment requiring the Secretary of Defense to formally present the committee with an "active reengagement, reenlistment" plan to reach out to those discharged for opposing the vaccine mandate was advanced to the House floor in a 32–27 vote.
"As we know, the FBI and the Department of Energy (DOE) have issued reports concluding the 'lab leak theory' is not a 'conspiracy' as it was originally called. It's the most likely thing that burst the Coronavirus onto the world," he said.
Gaetz wants funding for DOD gain-of-function research halted immediately "especially considering the revelation [of] the Pentagon's financial support for Eco-Health Alliance assisted in their research that occurred at the Wuhan Institute of Virology."
These grants were issued despite warnings from the private sector and the State Department of inadequate security and unsafe practices at the institute, he said.
"So I think that we could probably all agree that taking a little time off from the DOD funding for gain-of-function research would be a good thing, given the lack of security and some of the work that occurred in China," Gaetz said.
His amendment passed in a 31–28 partisan line without discussion, but Democrats had much to say about the other measures seeking to redress alleged harms caused service members by the vaccine and vaccine mandate.
Rep. Pat Ryan (D-N.Y.), a West Point graduate, was particularly opposed to Jackson's amendment regarding academy students.
"I want to just remind [Jackson] of the principles we all learned and in taking our oath, our duty, our obligation to follow lawful orders. These were lawful orders made at the time. Orders are part of being a cadet or midshipman and, ultimately, a future commissioned officer," he said. "We're teaching these young future officers that they will have this tremendous authority and responsibility of giving orders. And then, essentially, undercutting those principles."
"For this committee to come back afterwards and tell service members that they have the option, basically, to obey or not obey the orders of their commanders, I think it's a really dangerous precedent for the committee to set," Smith said. "As for the religious exemptions, they weren't ignored. They were denied. There was a process and they went through it."
He argued the whole raft of amendments was unneeded since DOD already has remediation and reengagement policies in place and, thus far, has reinstated every discharged active-duty service member and academy student who requested reentry.
"There's a number of amendments in this vein coming up and the argument will be basically the same on all of them,' Smith said. "And I'll basically just hit the replay button on that speech for a whole series of other amendments that are coming after that."