Victor Wembanyama: Who is the 7ft 4in teenager being touted as the NBA's next biggest star? | US News
Victor Wembanyama – who is listed at 7ft 4in tall and has an 8ft wingspan – is being touted as a future NBA star.
The 19-year-old basketball player is making waves in the sport as the first pick in the 2023 Draft in New York on Thursday, who was chosen by the San Antonio Spurs star.
The Frenchman is considered one of basketball's biggest prospects and most coveted picks since LeBron James in 2003.
He arrived at Newark International Airport outside of New York City earlier this week surrounded by fans – some with Spurs jerseys with his name already printed on the back.
Already building a legion of fans in the US, it was his first official taste of stardom – and his draft selection was not the least surprising to pundits.
Who is the French phenom?
Due to his height and wingspan alone, the French centre is expected to have an immediate impact in the NBA.
He has strong floor play, likes to shoot from outside and is effective in the interior.
Wembanyama averaged 20.6 points, 10.1 rebounds, 3.0 blocked shots and 2.5 assists in 44 games this season for the Boulogne-Levallois Metropolitans 92.
And the sport runs in the family: Wembanyama's older sister, Eve, is a professional basketball player, and their younger brother Oscar, is also starting to make a name for himself in the game.
Their father, Felix, was a track and field athlete, and mother, Elodie, is a basketball coach and former player.
Wembanyama played football as a goalkeeper and also practised judo before focusing on basketball.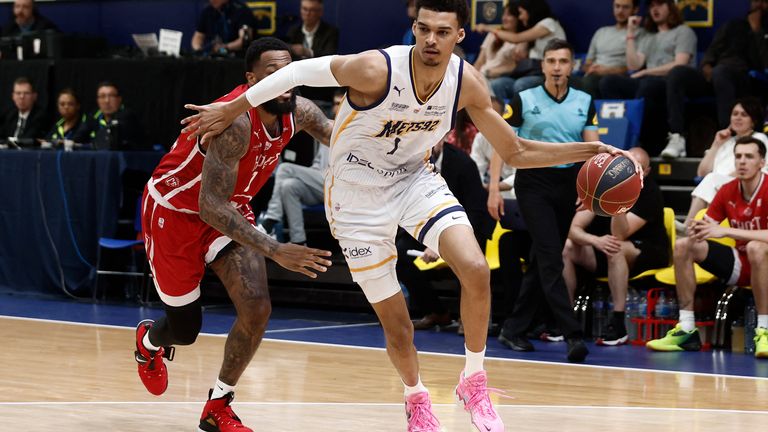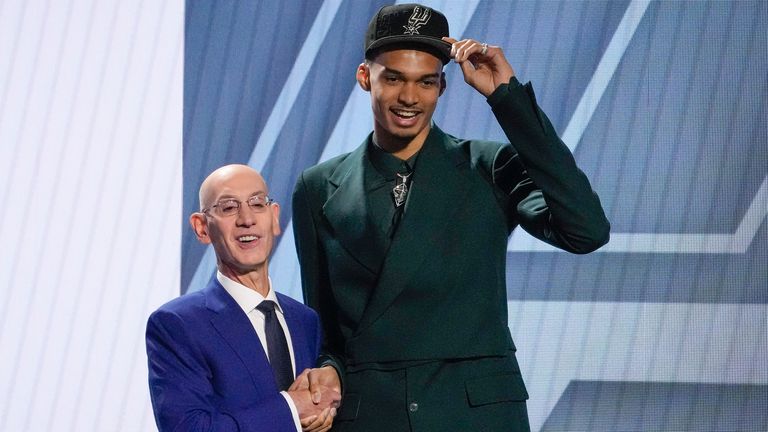 High expectations
Wembanyama was the consensus choice to be selected first and is regarded as a generational talent – but he insists that won't affect him.
"I don't let all this stuff get into my head," he said after he landed in the US.
"I've got such high expectations for myself that I'm immune to all this stuff. I really don't care."
He was the presumed number one pick for months, the rare certainty in an NBA draft process that's often a guessing game.
Yet, as the clock above the stage he was facing ticked all the way down to zero, butterflies set in – with Wembanyama describing it as the "longest five minutes of my life".
"This is accomplishing something that I have been dreaming of my whole life," Wembanyama said on ESPN's broadcast.
"Hearing that sentence from [NBA commissioner] Adam Silver, I've dreamed of it so much that I have to cry."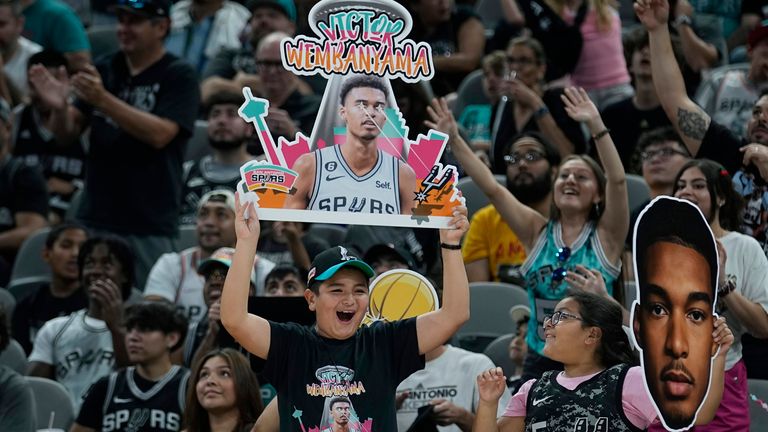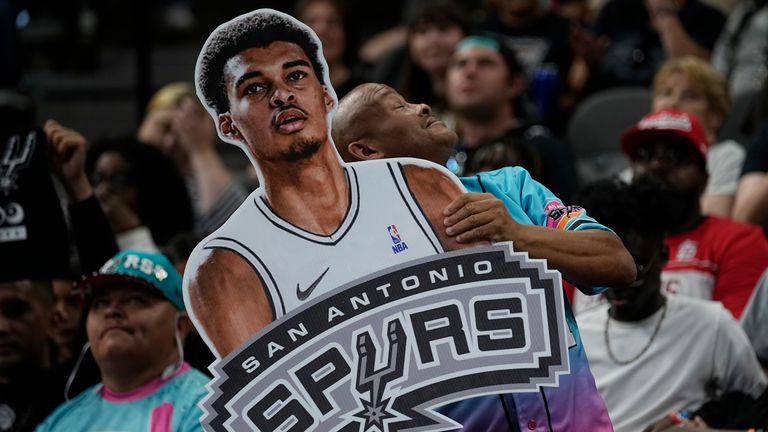 What are people saying about him?
Spurs have won five NBA titles under coach Gregg Popovich and have previously hit the number one overall draft pick jackpot twice with the selections of future Hall of Famers David Robinson (1987) and Tim Duncan (1997).
"We're thrilled that we were able to bring Victor on board," Popovich told a news conference.
"He's obviously a heck of a talent, a very mature young man. But just like with every draft pick, whether it's the first pick or the 27th pick, or the 38th pick, we have a responsibility to each and every one to try to create an environment where they can reach the best success possible for them.
"We're going to get him on the court, and we're going to see him play, and we'll go from there."
Read more:
Brittney Griner plays first professional league game since release from Russian jail
Prince Harry and Meghan seen on 'kiss cam' at basketball game
Wembanyama wants to join Robinson and Duncan as championship winners.
"It's tough to win in this league," Wembanyama said after the draft – but he has already targeted winning an NBA championship ring.
"My goal is to try and learn as much as possible because I want to win that ring."