Wagner chief orders troops to turn around from Moscow 'to avoid bloodshed'
Yevgeny Prigozhin announced through a post on social media that his troops are "turning our columns around … to avoid bloodshed."
Belarusian President Alexander Lukashenko reportedly revealed he had initiated negotiations with Prigozhin on behalf of and under the authorization of Russian President Vladimir Putin. The negotiations lasted throughout the day. 
Prigozhin agreed to stop the movement of his company toward Moscow. 
"At the moment, an absolutely profitable and acceptable option for solving the situation is on the table with security guarantees for the Wagner PMC fighters," a statement from the Belarusian government claimed.
BIDEN ADMIN, FOREIGN OFFICIALS REACT AS WAGNER GROUP MAKES 'MARCH FOR JUSTICE' TOWARDS MOSCOW
Prigozhin's announcement seemingly puts an end to what observers called the most significant challenge to Putin's regime in his 23 years in power.
WAGNER GROUP: WHAT TO KNOW ABOUT RUSSIAN MERCENARY GROUP IN UKRAINE
The Associated Press reports Prigozhin didn't say whether Moscow has responded to his demand to oust Defense Minister Sergei Shoigu. There was no immediate comment from the Kremlin.
Video obtained by Reuters showed troop carriers and two flatbed trucks each carrying a tank traveling 30 miles (50 km) beyond Voronezh, more than halfway to Moscow, where a helicopter fired on them.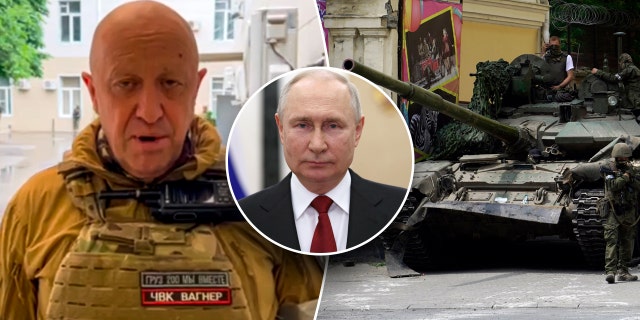 CLICK HERE TO GET THE FOX NEWS APP
Prigozhin said he had captured the headquarters of Russia's Southern Military District in the city of Rostov-on-Don without firing a shot. The city has served as the main logistical hub for Russia's invasion of Ukraine. 
Chris Pandolfo, The Associated Press and Reuters contributed to this report. 
This is a developing story. Check back for further updates.