Trump Tells Michigan GOP He's Defending Citizens' Freedom, Not Just His Own
NOVI, Mich.–Michigan Republicans cheered loudest and longest for former President Donald Trump when he declared that there's a hidden agenda behind Democrat attempts to criminally convict him.
"They want to take away my freedom because I will never let them take away your freedom," Trump stated during a June 25 speech, drawing a sustained standing ovation. "They want to silence me because I will never let them silence you."
Appearing in Michigan for the first time since launching his third run for the presidency, Trump spoke for an hour to the sold-out crowd at the Oakland County Republican Party's Lincoln Day Dinner.
The audience of more than 2,000 people at the Suburban Collection Showplace was so appreciative that, at times, cheering and applause drowned out what Trump was trying to say.
After Trump's speech, attendee Jena Wesley told The Epoch Times: "It's the truth. They're not after Trump. They're after us."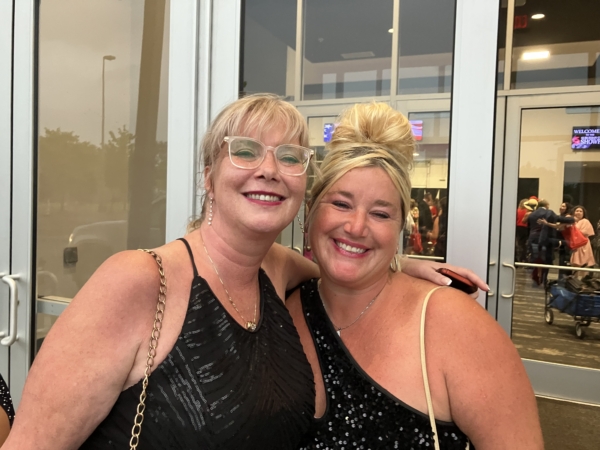 "They're trying to take away everything that we have, everything that the American country stands for," Wesley said. "They're trying to take away God, family and country."
Wesley's friend, Lisa Russo, agreed.
'Takeover' of Country?
Trump, who was federally indicted earlier this month for alleged improprieties with classified documents, says he has done nothing wrong. He has also pleaded not guilty to state charges in New York over allegedly falsified business records.
He predicted grave consequences "if these corrupt persecutions succeed."
Leftists "will complete their takeover of this country and they will destroy your way of life and the United States of America forever… it will never be able to come back from that," Trump said. "That's why this is the most important election we've ever had."
Trump said it is outrageous that President Joe Biden's administration "ordered his top political opponent to be arrested–that's me," he said wryly.
His arrest, Trump said, is based on "fake and fabricated charges right in the middle of an election."
Federal authorities have pushed back against critics' claims that the Trump prosecution is primarily politically motivated, saying that "no one is above the law"—although under the U.S. system of justice, individuals are considered innocent until proven guilty.
China Benefiting, Not Michigan
Trump also hit hard against what he called Biden's "maniacal push" for an all-electric car mandate and other policies that hurt Michigan's position as a leading automobile manufacturer.
China, which has dominated world production of electric vehicles, is benefiting from Biden's advocacy for those cars, Trump said. And that, he said, is happening "because Biden is being paid off … he's being paid millions and millions of dollars in bribes," Trump said.
He called Biden "the most corrupt president in the history of our country," and said the scandal surrounding Biden's alleged influence pedding is "100 times bigger than Watergate."
Congressional Republicans have been investigating allegations that Biden and his family received large sums of money from foreigners during his time as vice president, possibly in exchange for favorable policy decisions that Biden could have influenced because of his position at the time.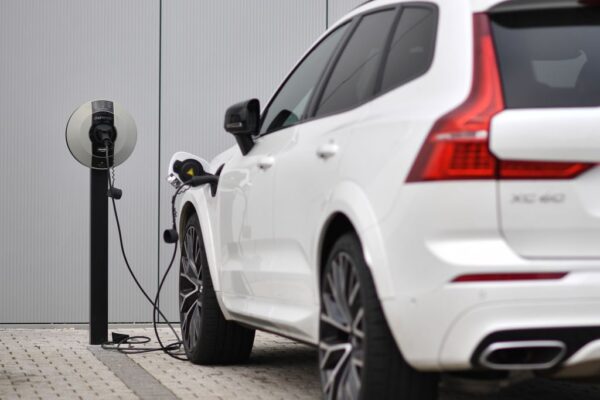 While Trump said he doesn't fault people who want to buy an electric vehicle, that should be the buyer's choice and not and order imposed by the U.S. government, Trump said. He drew laughs from the audience when he took digs at the electric vehicles' short-lived batteries and unreliability.
"Some people want to be able to drive more than an hour and a half," Trump said.
Trump also joked that there is a group of Americans who love electric cars: "The tow truck companies."
The former president told Michiganders that if voters return him to the White House, he would "stop the assault on the internal combustion engine, which is what you do here."
'April Fool's Day'
Trump also said he would "unleash American energy and save tens of thousands of Michigan jobs from destruction." He warned: "You are headed toward a fall like nobody's seen before, and that's with this crazy policy they have for all-electric."
Trump said Biden is advocating for all sorts of policies that make no sense, including raising taxes and interest rates, opposing requiring voters to show identification cards, having open borders, and indoctrinating children with transgender ideology.
"This country has gone crazy," Trump said. "It's like April Fool's Day. Everything's the opposite [of what it should be]."
In the final minutes of Trump's speech, the crowd again gave Trump a standing ovation as he stated, "The great silent majority is rising like never before."
He expressed confidence that he would win Michigan in 2024, a state he won in 2016 but lost to Biden in the 2020 election.
Trump said he was honored to accept the Oakland County GOP's "Man of the Decade Award," which he also received in 2013, the last time he spoke to the group. That was two years prior to his initial presidential campaign.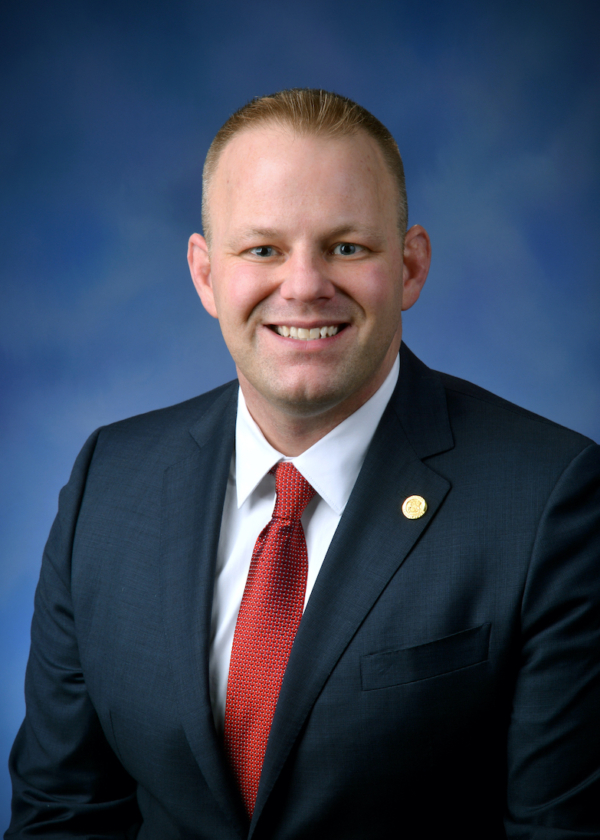 The event program says, "We set an attendance record that breaks the original record" that was sent when Trump last visited.
Since then, Trump "has dominated the news cycles and the political world, rising to the pinnacle of public service as the most powerful man in the world–President of the United States," Michigan Rep. Ryan Berman, chair of this year's dinner, wrote in the event program.
"Despite unprecedented opposition, President Trump still has America's best interests at heart and wishes to make our country a powerhouse and respected again! He is most definitely deserving of our aptly named 'Man of the Decade' award," Berman wrote.
The group's annual dinner honoring President Abraham Lincoln dates to 1890, when attendees arrived via horse-and-buggy.
Tickets to the party's largest fundraising event started at $250 per person; sponsorships started at $2,500 and went up to $7,500.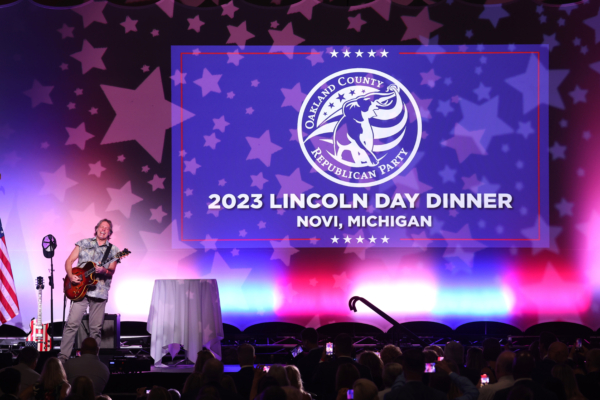 Rock guitarist Ted Nugget whipped up the crowd with his "fire-breathing" rendition of the National Anthem. He urged the audience: "It is your moral obligation to convince everyone in your life that the only way to save America is to vote for Donald J. Trump."
U.S. Rep. Lisa McClain (R-District 9) introduced Trump and announced that she is endorsing him for president in 2024. "He is the leader this country needs," she said. "Thank God for Donald J. Trump."