Don't pay Congress if government shuts down, says GOP lawmaker
Rep. John James, R-Mich., wants to prevent members of Congress from getting their paychecks if they don't do the work needed to keep the government open.
The House of Representatives will be out for six weeks and return on Sept. 12, giving them just a few weeks to pass spending bills for the next fiscal year that starts Oct. 1. A partial government shutdown could happen if no agreement is reached between the House and Senate by then.
"If politicians don't work, politicians don't get paid," James told Fox News Digital when explaining his Put Your Money Where Your Mouth Is Act. "Where I'm from, Michigan's 10th Congressional District, the number one manufacturing district in the nation, if you don't work, you don't get paid. And the same should go for D.C. politicians."
HOUSE, SENATE HEADED FOR SPENDING SHOWDOWN AFTER SENATE PUSHES FOR $13.7 BILLION EXPANSION
His bill would exclude members of both chambers from the payroll during pay periods that land during a government shutdown. It's designed to take effect in the event any part of the government shuts down due to a failure in the appropriations process.
James argued there was a disparity in work expectations for different groups, and said half of his district was "working poor" and a quarter lived below the poverty line.
CONSERVATIVES WARN MCCARTHY THEY'LL VOTE AGAINST SPENDING BILLS THAT DON'T CUT 'BLOATED' GOVERNMENT
"And now you have politicians who are making over $175,000 a year to shut down the government and hurt people back home. That's not acceptable. There needs to be accountability," he said.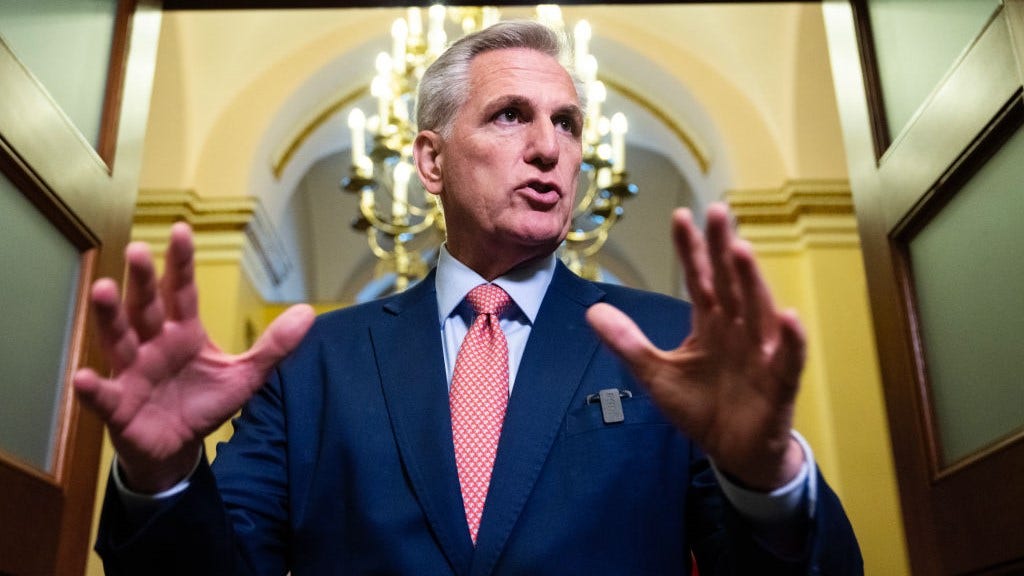 Asked about the reaction from House GOP colleagues, James said it was mixed.
"There's a little bit of excitement, a little bit of frankly, hesitance, because it's something new… it's something new that people will come and hold each other accountable. But that's what we need," he said.
BIDEN REPEATS 'MISLEADING' CLAIM HE CUT AMERICA'S BUDGET DEFICIT BY $1.7 TRILLION: 'BOTTOMLESS PINOCCHIOS'
His legislation was introduced against the backdrop of a tense standoff over government spending in Congress. Conservative House members are pushing their conference's thin majority to make further cuts, while Senate Democrats have already said they will refuse to consider any spending bills below the level agreed to by Speaker Kevin McCarthy, R-Calif., and President Biden.