'Doomsday mom' Lori Vallow jailed for life for murdering two of her children | US News
A woman dubbed the "doomsday mom" has been jailed for life without the possibility of parole for the murders of two of her children and conspiring to kill her husband's ex-wife.
Lori Vallow, 50, had become obsessed with a religious apocalypse, prosecutors in the US said.
The mother, from Idaho, believed her children had to be destroyed so they could go to heaven, her trial heard.
She allegedly believed her son and daughter were zombies – and that she was a goddess sent to usher in the Biblical apocalypse.
She was handed three life sentences, one for each of the charges, to be served one after the other.
The disappearance of two of her children – seven-year-old Joshua "JJ" Vallow and his sister Tylee Ryan, aged 16 – in September 2019 transfixed the nation and sparked a months-long search.
It was not until June 2020 that police found the mutilated remains of JJ and Tylee at a property in rural Idaho that belonged to Vallow's fifth husband, Chad Daybell, who is awaiting trial on the same murder charges.
After a lengthy trial, Vallow was convicted of their murders in May this year, along with conspiracy to murder her husband Daybell's ex-wife, Tammy.
Read more:
Did fear of apocalypse drive 'doomsday mom' Lori Vallow to murder her children?
Vallow appeared at Fremont County Courthouse in St Anthony, Idaho, on Monday for sentencing.
Before her sentencing, she addressed the court claiming that a near-death experience allowed her to communicate with the "spirit world".
She told the judge that she knew "for a fact" that her children and Tammy Daybell were happy in heaven. She said Tylee and JJ have communicated with her that they are happy after their deaths.
Son of 'doomsday mom' addresses court
Vallow also faces two other cases in Arizona – one on a charge of conspiring with her brother to kill her fourth husband, Charles Vallow, and one of conspiring to kill her niece's ex-husband.
Charles Vallow was shot and killed in 2019, but her niece's ex survived an attempt later that year.
AT Monday's sentencing hearing, Judge Steven W Boyce heard testimony from several representatives of the victims, including Vallow's only surviving son, Colby Ryan.
In a statement read by a lawyer, Mr Ryan said: "My siblings and father deserve so much more than this. I want them to be remembered for who they were, not just a spectacle.
"I've lost the opportunity to share life with the people I love the most."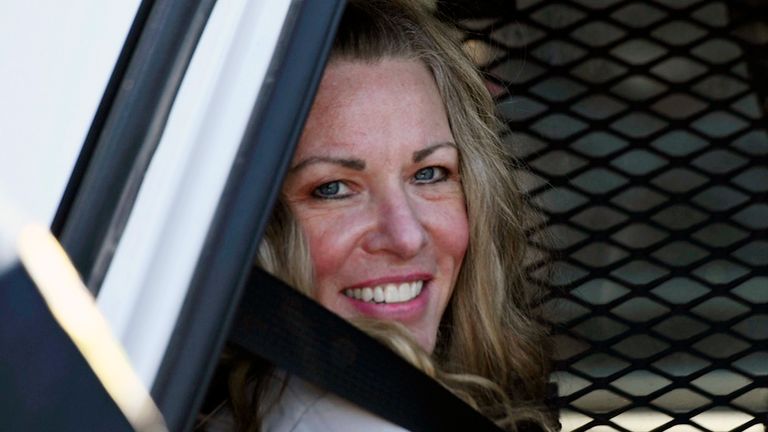 Lori Vallow and Chad Daybell married in November 2019, about two weeks after his previous wife Tammy was killed.
While it was initially thought that Tammy had died of natural causes, an autopsy later revealed she had been asphyxiated.
When the two children JJ and Tylee were reported missing, Vallow and Daybell had told police that JJ was in Arizona with a family friend – and Tylee had died a year before and had been attending a university.
JJ's body was wrapped in rubbish bags, his arms bound in front of him with duct tape. Tylee's remains were charred.