Parents of Alabama woman who mysteriously died in US Virgin Islands fear former employer could be involved
The parents of an Alabama woman who died in the U.S. Virgin Islands are suspicious their daughter's former employer may be involved in her mysterious death as they desperately search for answers. 
22-year-old Lily Ledbetter was found unresponsive at her St. John home in June. Since her death, her parents Patrick Ledbetter and Sharon Thrash said they have received little information on the investigation. 
They warned they are suspicious her former employer could have something to do with the tragedy during "Fox & Friends First" as they continue to fight for justice for Lily. 
VIRGIN ISLANDS DEATHS: AMERICANS FACE CRIME, VIOLENCE AMID RISING CONCERNS OVER US TERRITORY'S POLICING
"She had been introduced to a man named William Tuttle there to possibly take on a good opportunity, possibility as a first mate on a charter boat for the charter company," Ledbetter told Carley Shimkus Monday. 
Lily's parents claim she worked under Tuttle at Yellow Bird Charters, where she was initially excited about the opportunity in the hospitality industry. 
But shortly thereafter things changed and Lily expressed her fear to her loved ones, saying the people she was working with were not good people, and she needed to leave the island. 
"We feel that basically this guy was a sexual predator. He manipulated our daughter. We have lots of information regarding him, the relationship between himself and our daughter," Ledbetter said. "It seems as though if this was a relationship or something here in the States… He would already be a major suspect, and to this day, I don't think he's even being questioned."
Tuttle has not been named a suspect in the case, according to Lily's parents. 
VIRGIN ISLANDS OFFICIALS MUM ON US SWIM CHAMP AUTOPSY RESULTS AS SPRING BREAK VACATIONS BEGIN
Tuttle released a statement to Fox News on Lily's passing, writing, "Lillys [sic] passing is a terrible loss!  Lily was suggested to me by a friend as I was looking for a first mate and, as luck would have it, I have never had a better assistant on the boat for the three weeks that she was working for me, I have never found a person that learned so quickly and adaptly as Miss Lily."
"Her ability to maneuver and dock the dinghy for instance, was perfect by day two end she was clearly enjoying the hospitality industry and the day charter experience," he continued. "She will be missed!"
But Lily's mother was not satisfied with Tuttle's reaction, saying the opportunity with the charter company was "not what she thought" it was initially going to be. 
"I don't know how to react to that after seeing and hearing from Lily, and I think she started out, and it was just that. She loved her job," Thrash said. "She loved what she thought were going to be her opportunities, but at the end it was not what she thought. She was wanting to get away. She was wanting to leave the island."
Even after the autopsy, Lily's parents still have major questions. 
BOYFRIEND OF US SWIM CHAMP FOUND DEAD IN VIRGIN ISLANDS CONVICTED IN PENNSYLVANIA TOURIST'S 2007 BEATING DEATH
"It was basically a negative autopsy," Dr. Francisco Landron told Fox News Digital. "There is no injury, nothing to explain the cause of the death."
They are still waiting on toxicology results, but if those do not reveal any answers, Landron said the next step would be "microscopic studies on tissues such as the heart."
They claim officials on the island haven't been helpful in their daughter's case, saying they were not able to identify Lily's body until the week after she died. 
A detective assigned to Lily's case who was helping her parents get information was allegedly shot and killed after their daughter's tragic death, according to Thrash and Ledbetter.
CLICK HERE TO GET THE FOX NEWS APP
"We were told that our autopsy could take anywhere from two to five months by the attorney general's office," Ledbetter said. "I asked about who was questioned… who was possible suspects, any of that information, and we haven't received anything."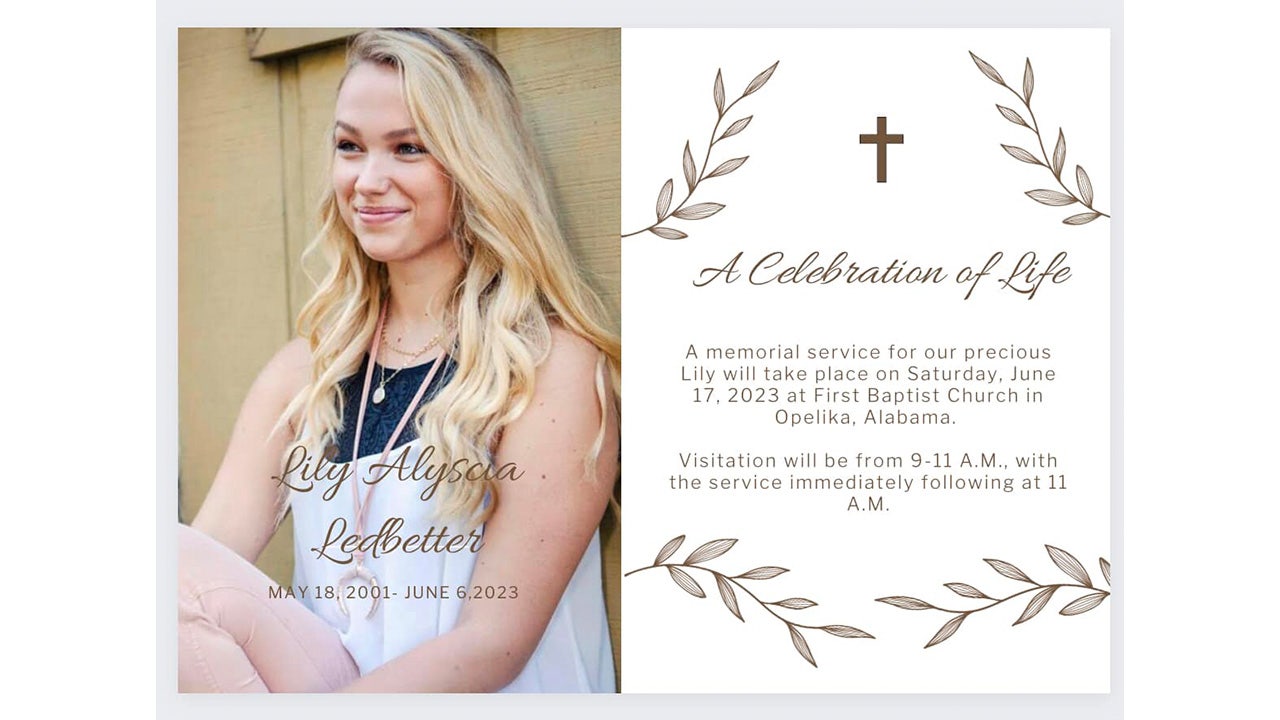 The former Auburn University student had been living on the popular tourist island of St. John in the town of Cruz Bay and was working at a local animal shelter when she died suddenly.
Officials have come under fire in recent years for their handling of suspicious deaths amid concerns about the rate of violent crime in the tropical paradise.
In February, retired U.S. swimming champion Jamie Cali, 42, died after her boyfriend found her unresponsive in her home on St. John.
For more Culture, Media, Education, Opinion, and channel coverage, visit foxnews.com/media.
Fox News' Rebecca Rosenberg, Ashley Papa and Haley Chi-Sing contributed to this report.