Preschooler walks at graduation despite facing partial paralysis amid ceremony: 'Full of life'
A 5-year-old girl appeared to not let anything come between her and her preschool graduation – not even paralysis.
Estella Henderson was born with a mutation on her ATP1A3 gene – a degenerative and very rare condition that leads to the disease alternating hemiplegia of childhood or AHC, which for Estella causes "episodes of paralysis, dystonia, and nystagmus,"according to a website the family has created.  
The episodes come on without warning and "take her from a happy, playing, dancing four-year-old to a helpless, paralyzed, dystonic child screaming in pain. During these AHC episodes, Estella loses her ability to walk, crawl, swallow and even hold her head up."
LITTLE BOY FROM MINNESOTA HAS 'WRONG' ANSWER WHEN MOM ASKS WHO MADE HIM 'SO CUTE'
Her mother, Lacey Henderson, of Pella, Iowa, told Fox News Digital that her daughter was diagnosed as a baby after multiple seizures and near-death emergency room visits where doctors could not pinpoint what was happening to Estella. Genetic testing finally revealed the gene mutation, Henderson said.
"ATP1A3-related neurologic disorders represent a clinical continuum in which at least three distinct phenotypes have been delineated: rapid-onset dystonia-parkinsonism (RDP); alternating hemiplegia of childhood (AHC); and cerebellar ataxia, areflexia, pes cavus, optic atrophy, and sensorineural hearing loss (CAPOS)," according to the National Library of Medicine.
Henderson said Estella showed beginning signs of dystonia and paralysis on her right side as she went on the school bus on the day of her preschool graduation. 
It started out as a good day, Henderson said, adding, "But then I saw her 'episode hand.'"
GROUP HUG! BOY GETS ADORABLE 'WELCOME BACK' AT PRESCHOOL AFTER ILLNESS PUT HIS TWIN IN THE HOSPITAL
"Episode hand" is a term Henderson uses to describe the very first signs that Estella is going into an episode of partial paralysis, dystonia, and extreme pain.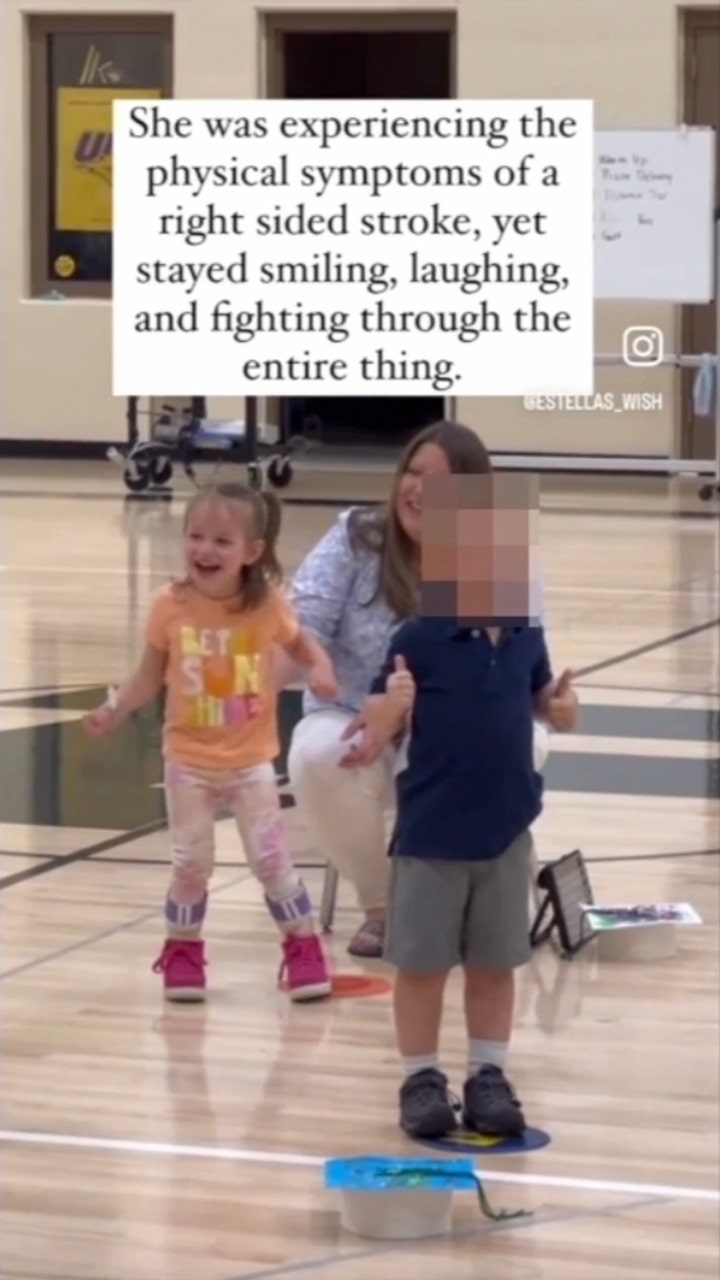 She described it as watching her daughter's hand curl; the one that curls usually indicates which side of her body dystonia and paralysis will start on, but eventually, it takes over her whole body. 
Episodes can last up to nine days and each one leads can lead to brain degeneration – which affects the body's activities "such as balance, movement, talking, breathing, and heart function," the National Library of Medicine writes on it's topic page about degenerative nerve diseases.
During episodes, her mom said, Estella is in so much pain she is often screaming out. 
GEORGIA DAY CARE TEACHER GOES VIRAL FOR HYPING UP TODDLER STUDENTS WHILE DANCING TO THE ABCS: 'THEY LOVE HIM'
"I was devastated. I was thinking, 'Why can't she just have this day?' I expected she would be in her wheelchair by the time we got to the school for graduation." She wasn't.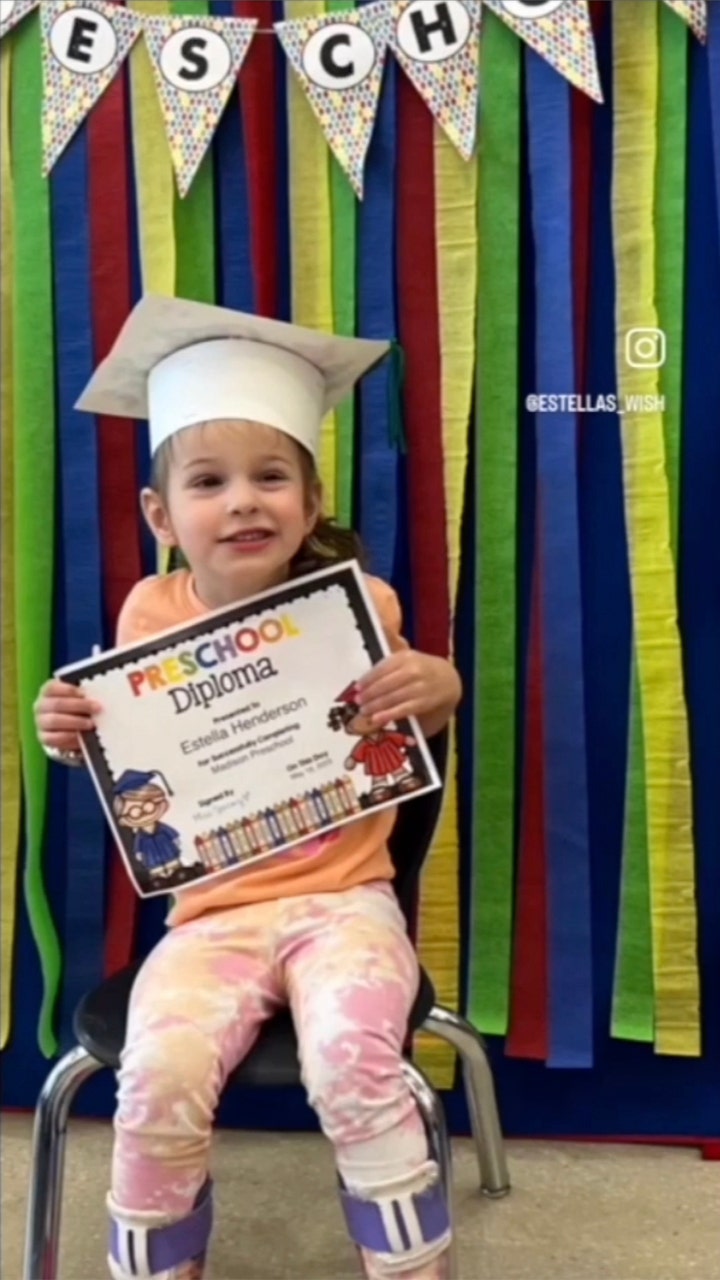 Though her mother said Estella "looked like she was having a stroke," she kept fighting. "One arm wasn't working, her leg was dragging and she was fighting to stay upright," Henderson said. 
But still, Henderson added, Estella walked in with her class, sang the songs and "danced in her own way." (See the video at the top of this article.)
"Even though half her body didn't work during the entire program, her body was shaking and she was pushing herself to the max, she had a look of determination on her face. I was so proud of her."
FLORIDA GRANDPA AND GRANDDAUGHTER GO VIRAL ON TIKTOK FOR THEIR JOY OVER PRE-SCHOOL PICKUP
Henderson said that while she hopes there's a cure for all people with an ATP1A3 gene mutation, they have been advised that the quicker route would be to raise enough money to fund a cure for Estella's particular form of the condition.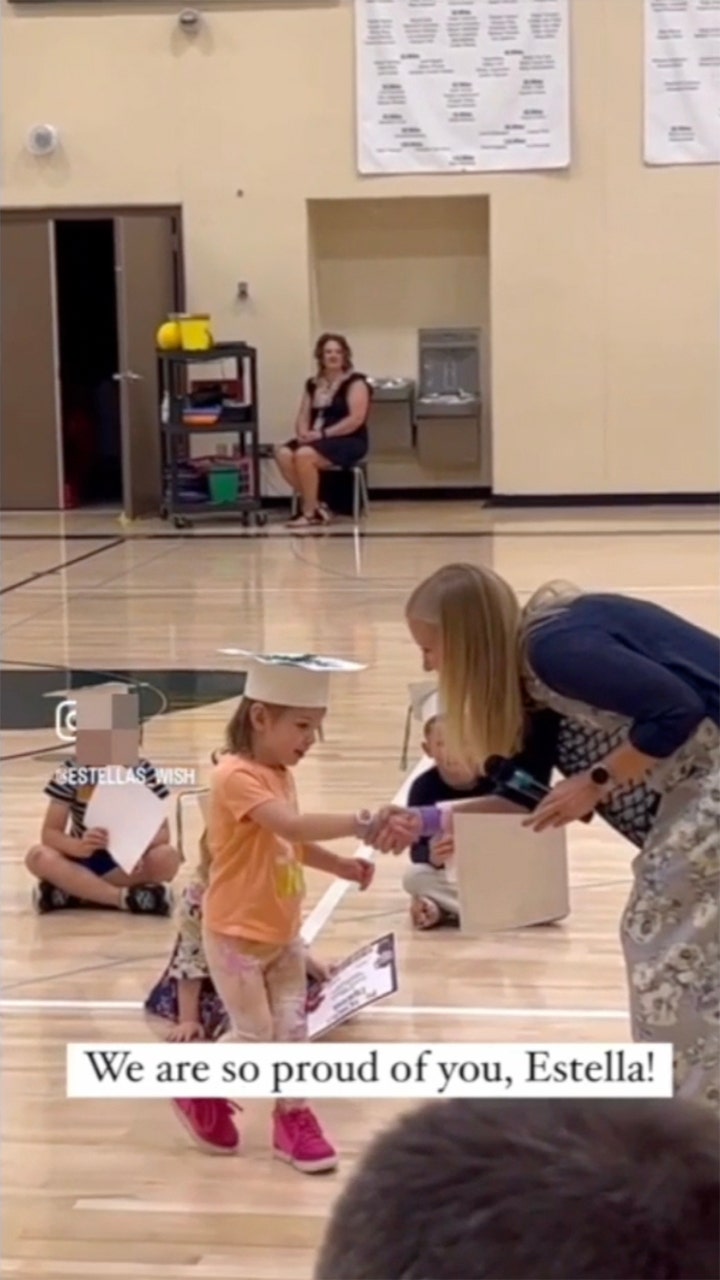 They estimate the cost to be $3 million and have so far raised $140,000 on GoFundMe. 
That money could "in a perfect world, cure Estella," Henderson said. 
Even if it did not cure her, it could "at least get rid of the episodes, every one of which leads to brain degeneration and possibly death." 
CLICK HERE TO SIGN UP FOR OUR HEALTH NEWSLETTER
The family lives under the constant threat of losing their daughter – either to death or permanent damage to her brain, Henderson said.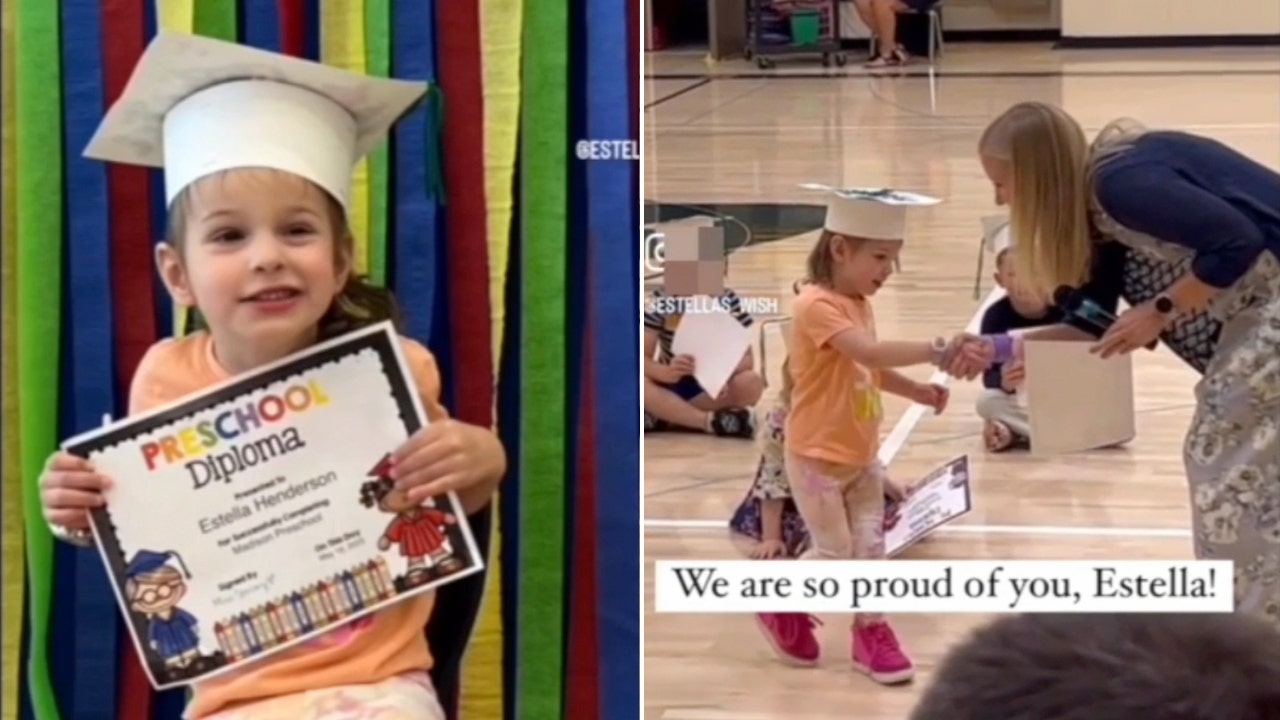 Henderson said it's unknown how long an episode will last or who Estella will be when it's finally over.
Despite the pain Estella lives with, she's "amazing," Henderson added.
CLICK HERE TO GET THE FOX NEWS APP
"Every day she gets up and doesn't know what her body is going to do to her and she is still so full of life. I admire her so much," Henderson said.